Apartment with a big private patio located in Santa Catalina
This housing is offered solely under the seasonal lease form, to people or companies looking for accommodation on the island for no vacation reasons. This rental has not a tourism purpose and therefore is subject to the provisions of THE LAW OF URBAN RENTALS.
Sant Magi Apartment is situated in the city center of Palma, close to the district Santa Catalina - one of the chicest neighborhoods in Palma.
The apartment offers an open plan living room with a dining area and fully equipped kitchen, two bedrooms (one en-suite with one double bed, and the second one with a double sofa bed), and two bathrooms in total, both of them with a shower.
Sant Magi Apartment is fully furnished, ready to move in, and is equipped with air conditioning, a Wi-Fi connection, a dishwasher, a washing machine, TV, etc.
Additionally, there's a great terrace with a table and chairs to spend lovely moments under the sun.
Sant Magi Apartment is very well situated also for its transport connections. The main station Plaza España is just 10 minutes away by bus or 20 minutes walking, and the Palma Port is just 5 minutes walking.
No pets please
+ More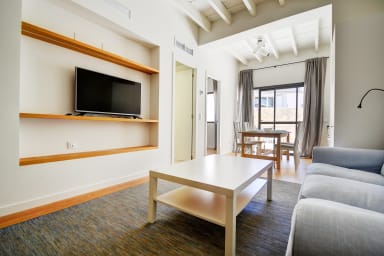 Air Conditioning
Coffee Maker
Dishwasher
Essentials
Freezer
Fridge
Full Equipped Kitchen
Hair Dryer
Heating
Internet
Iron
Kettle
Kids Friendly
Linen Towels
Microwave
Oven
Smoking Forbidden
Terrace
Toaster
Tv
Washing Machine
Nick E.

Espartero appartment

As I said in my review to AirBnb the appartment was fine .... I have only 2 suggestions for improvement .... 1) the mattresses on the beds were very hard and thin ! these should be replaced by internally sprung mattresses or memory foam ....sleeping on very hard beds is not pleasant ...especially after a long days work! 2) the master ensuite bedroom was at the front of the property and the traffic noise was extremely loud especially in the early morning ....some more acoustic noise reduction should be installed ....( actually if the master ensuite was at the rear of the appartment this would not be so much of a problem for a couple !) otherwise the location was great and the service by you guys was very good ! Thanks Nick

October 2018

Agradable estancia en Espartero

El apartamento está en muy buenas condiciones y la ubicación es excelente para los que quieren estar en Santa Catalina. El apartamento estaba muy limpio, es luminoso y tiene una buena distribución. La terraza es muy agradable. Es importante señalar que el apartamento se encuentra en la planta baja y da directamente sobre la calle Espartero. El tráfico se calma en horas de la noche y en el cuarto de atrás que da a la terraza no se oye ningún ruido. El servicio de recepción fue muy amable y resolvieron con prontitud una equivocación que se presentó en el cálculo del valor del alquiler. Recomiendo este apartamento y los servicios de Monzly.

February 2019

Sakina G.

absolute Great!!!

We had a great Time!!! The Apartment is really good and has everything you need. We stayed for one month with two Kids and it was perfect. The location, the endowment are really great. It is directly to a main street, but it is pretty quiet. We slept very well. You walk just 20 Minutes to the old town. A Supermarket is 5 Minutes away. We will come back. Thanks a lot Sakina

March 2019

Linda L.

Appartamento Espartero

Clean, spacious, sun terrace, perfect location, bars/cafés/shops/market just around the corner, bus stations 2 minutes walk away, dish washer, fan, WIFI --> EVERYTHING you need! Communication was very easy as well as our late night check in. I would recommend this accommodation to everyone who is looking for a clean and nice starting point to explore Palma or to visit the beaches around the city. We'll come back for sure! Muchas gracias!!

March 2019

two weeks in Palma togeter with 3 other adults

Everything was good.Clean and very central.Nice neighbarhood with restaurants etc.Close to the harbour. Some small tip: Spatula missing Butter knife missing One more board Cheese slicer missing

July 2019

Lamija L.

10/10

Palma was amazing. The apartment and its location made it even better. The apartment is clean, has everything you need, the grocery store and different restaurants are located literally down the street. However, if you want to go to the beach you need to take a taxi, and the one we went to was Cala Major, 10 minutes away from the apartment and it usually costs 8 euros. But since we wanted to be in the city, rather than close to the beach, it was worth it since all the beaches are a little further away from the city centre. All in all, I really recommend this apartment.

August 2019

Francisco A.

EXCELENTE

TRATO MUY CERCANO, SE ADAPTAN A TUS PETICIONES ALOJAMIENTOS LIMPIOS TRANQUILOS Y CON LAS COSAS MUY NUEVAS

August 2020

Nikolina B.

Espartero stay

We absolutely loved this apartment. Amazing apartment, location and just everything about it. Perfect for a couple or friends! We will definitely miss it! ♡

December 2020

María I.

Excelente visita

Nos quedamos con dos amigas en la casa y nos pareció preciosa, super amplia y nueva, con una terraza muy disfrutable y en una excelente ubicación! Ya queremos volver el año que viene!

August 2021

Lucia A.

MUY BUENA ESTANCIA

GRACIAS POR LA EXPERIENCIA, LA ESTANCIA.

September 2021
Show more