Lovely penthouse in the center of Palma, next to the famous flower´s street La Rambla
This housing is offered solely under the seasonal lease form, to people or companies looking for accommodation on the island for no vacation reasons. This rental has not a tourism purpose and therefore is subject to the provisions of THE LAW OF URBAN RENTALS.
Garden Atic is situated in the heart of Palma de Mallorca, just next to the Ramblas, which is famous for its flowers. It is a really great location, everything you will need is nearby.
This lovely penthouse has a living room with a dining area, a cozy kitchen with everything you would need for pleasant cooking, one small bedroom, which is more just like a separate place to sleep, and a bathroom with a bathtub. Additionally, this apartment has its own terrace overlooking the Botanic Garden with a table and chairs to spend moments of relaxation.
Garden Atic is equipped with Tv, Wi-Fi, washing machine, room fans, heating, microwave, oven, kettle, fridge, hairdryer, bed linens & towels, etc.
Another advantage of your staying in Garden Atic is definitely the location for its public transport. In the nearby, there are various bus stops from which you can reach every point of Palma de Mallorca.
Great place for business monthly trips for lone travelers or couples.
Pets are not allowed.
+ More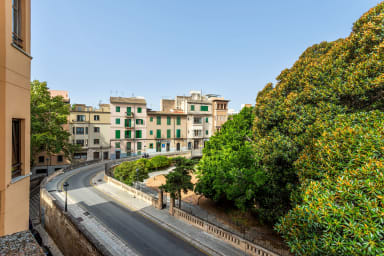 Ceiling Fans
Coffee Maker
Dvd Player
Essentials
Freezer
Fridge
Full Equipped Kitchen
Hair Dryer
Heating
Internet
Iron
Kettle
Kids Friendly
Linen Towels
Long Term Rentals Available
Microwave
Oven
Smoking Forbidden
Solarium
Terrace
Toaster
Tv
Ventilator
Washing Machine
Ann-Marie M. (

United States

)

Botanic Átic great location with terrace

This is on the 4th floor, not 3rd. Nice cozy quiet apartment. Very hot during summer months especially during the hours of 17h-20h when the sun shines directly on the apartment. Great location. I would stay here again. I stayed for 2 months.

August 2018

Botanic Attic Palma de Mallorca

Pros Apartment is nice, small but new and well equipped, very close to city center, main city bus lines and to the central bus station, everything is at walking distance. It has little beautiful terrace with a view on a botanic park with chairs, table, sunbed and drying rack. Reception service, in case of problems, is available both by phone or by mail, in English. We had a problem with the water heater and it was fixed the next day by completely replacing it with a new one. Cons Has a very very small sleeping room, it is described as a bed for two... but only if you are very close to each other and quite small-framed. I left the bed for my son and used the sofa for myself (not a convertible sofa). It was comfortable, I didn't even notice I was not using a bed, but may be others are not so adaptable. A little hot, plenty of fans but no air conditioning. In summary, we had a very nice stay.

August 2019

Steve B.

Steve

Nice apartment in good location but the bed is exceptionally small & not very comfortable

September 2019

Barbara E.

Nice apartment in old town

but not acceptable for loser people who can't walk narrow stairs to the 5th floor and not for children as they could disturb the neighbours by running around. The bed is not too comfortable (bowed mätresse in the middle) especially not for two- glad i was alone Heating is typical spanish (electric radiators) Kitchen seems to be equipped enough but i didn't use it. so overall it is good as affordable and very central

January 2020

Chad L.

Perfect spot in the attic!

Beautiful flat, lots of character! Great location, cosy and clean studio flat, with the bed tucked away. It's got a nice terrace and everything you need. Would probably not look much for another place next time in Palma.

March 2020

Felipe V.

Recommended for short stay

Location was great. The apartment was in very good conditions and well equipped. The terrace was a good asset but the four floors by step was hard to do twice or three times a day. All in all we recommend to stay here, the guys are super nice, special thanks to Benoit

June 2021

Michael S.

... but not that bad

The three of us (Susi, Micha, Baby Amalia) stayed for the duration of one month in the Botanic Attic. We really enjoyed having the big terrace as we stayed during the month of august which is supposedly the hottest month of the year. The terrace receives some shadow during the day and in the evening it´s quite agreeable outside. We liked a lot the big open space (kitchen and living room) and the very small bedroom as we only use it for sleeping. Also behind the bathroom is a narrow space where they put shelves. This is the closet of the apartment. Although we enjoyed our stay in Botanic Attic, there were also some downsides. Depending on the kind of relationship of the people staying, the bathroomdoor is really dificult to close. It's a glass sliding door which hangs from a rail above. When closing it tends to hit the tiles on the floor and gets stuck. Speaking of the bathroom, the toilet flush basin leaked water in the toilet so there was a permanant trickle and gourgle going on which let us to some improvisation. Although Monzly promised to fix the problem, they never did. The bathroom in general was really ok, having a little window and good water pressure. Only the bathtub is not for very large people ;-} The kitchen is well equipped, even a stick blender is there! The dishes and cutlery were not really clean when we wanted to first use them. So a little washing up is recommended. One thing which is kind of strange: The frige doesn't close tightly and if you don't pay attention water will collect in a puddle on the floor. The solution Monzly is offering is only temporary. The stairs leading to the apartment are very steep, dusty and the staircase is really narrow and without any ventilation.

September 2021
Show more