Fantastic 4-bedroom apartment in rent with private terrace in Santa Catalina.
This housing is offered solely under the seasonal lease form, to people or companies looking for accommodation on the island for no vacation reasons. This rental has not a tourism purpose and therefore is subject to the provisions of THE LAW OF URBAN RENTALS
Lemon Tree Apartment is located in Palma, in the district of Santa Catalina. Historically it was a fishermen´s district, for its strategic situation close to the sea. Nowadays Santa Catalina is one of the favorite areas of Majorcans.
Lemon Tree Apartment counts with living room, dining area, fully equipped kitchen, 4 bedrooms, two of them have a double bed, the third bedroom has two single beds and the last bedroom counts with one single bed, full bathroom with a shower, and a toilet. There is, but we believe that what you are going to enjoy most is the private terrace with a dining table and outdoor shower.
Among other equipment, Lemon Tree Apartment is rented with a Tv, Wi-Fi connection, air conditioning in the living room, washing machine, fans, heaters, fully equipped kitchen with oven, microwave, kettle, coffee machine, and much more.
The apartment is very well situated also for its transport connections. You will find several lines of buses to be able to go to every corner of Palma. Or from Plaza España, which is 10 minutes away by bus or 20 minutes' walking, you will reach the main station, where you can catch a bus or train.
Come to spend a pleasant and comfortable stay at our amazing apartment.
+ More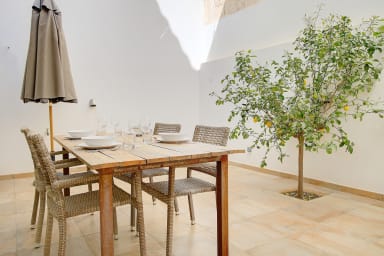 Air Conditioning
Coffee Maker
Essentials
Freezer
Fridge
Full Equipped Kitchen
Hair Dryer
Heating
Internet
Iron
Kettle
Kids Friendly
Linen Towels
Microwave
Oven
Smoking Forbidden
Terrace
Toaster
Tv
Ventilator
Washing Machine
Silvia P.

Monzly rentals: You did it all perfect!

It was a perfect stay at Santa Catalina 8, everything in the house worked properly and it was more than expected. The Monzly team is really amazing! I strongly recommend to rent any house/apartment through them. Thanks! You did it all great for my family and me!!

January 2020

Christine P.

Nice Location and pretty apartement, service of Monzly really nice

Best Location for us being in Palma, for working and cycling. Apartement would need an upgrade in the interior and equipment as it is not equivalent to the monthly price (cheapest coffee maker, not enough cups etc). Very fast internet and the best coffee place just around the corner. Only two of the bedrooms get direct air from outside (the others have no window), the terrace has no direct sun as it is covered with a sunsheet which cannot be removed—that was a pity. Heating works very well and was valuable in march. Bathroom has floor heating which was also very nice. The outside shower would be nice for summer but was stacked with cleaning stuff. Monzly service via mail was very good, also checkin easy. Thank you! Would definitely rent again with Monzly.

April 2022

Ivan V.

Pueden mejorar mucho con poco, la atencion en los detalles haria la diferencia...

nuestra estancia fue de mucha calidad, quisimos aprovechar las vacaciones con el minimo de situaciones molestas o perder tiempo con situaciuones incomodas, comparto ciertos aspectos que me parecen relevantes, realmente nada que no se pueda mejorar con un poco de atencion en los detalles. Algunos de los aspectos positivos: Ubicacion del piso en la ciudad, muy centrico y bien ubicado Es de facil acceso (no hay que subir escaleras) Comodo por el tamanyo y distribucion del mismo. Decoracion bastante sobria y relajante. Con electrodomesticos algunno de los aspectos por mejorar: _Pintar el piso urgente _incluir un seguro en las puertas de los aseos (1 y 1/2 aseos reales,es decir uno con ducha y el otrto solo el vater, no tiene 3 aseos como lo ofrecen por internet, eso hay que corregirlo para evitar ofertas enganyosas), al pedir que solucionaran eso, no hubo diligencia, nunca repararon nada y no quisimos seguir insistiendo. _Para todo el piso hay un solo aire A/A _Las horas de entrada y salidas del piso deben ser mas sensatas, entregan a las 16 horas o mas tarde incluso y piden dejar el piso a las 10 am, es decir se entra tardisimo y se debe entregar muy temprano, nada de acuerdo con eso. _Revisar con mas detenimiento cuando se entrega el piso, la limpieza deja mucho que desear, si, entregan limpio pero con muchisimos detalles que pueden como ya se menciono mejorar, revisar con detenimiento la linea blanca y electrodomesticos por dentro para que los clientes no se encuentren sorpresas desagradables. _hay ciertos equipos y mobiliarios que deben ser retirados por estar en condiciones inaceptables, sugiero revisar.

July 2022